Roxana Popa: Spanish Champion and Hero of the Future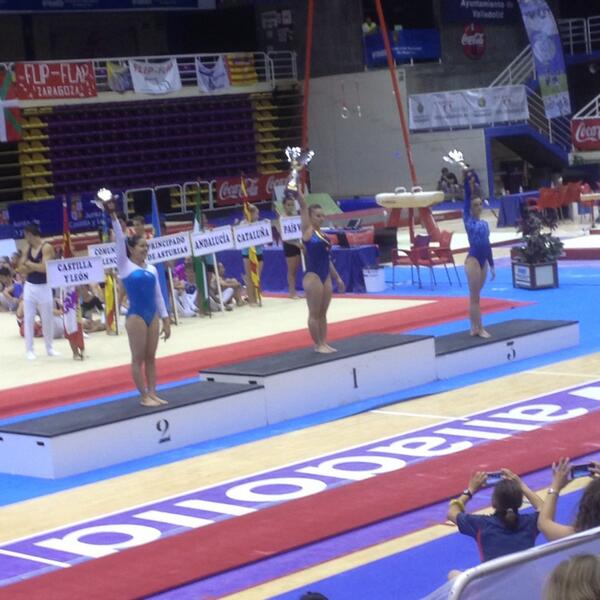 1st Roxana Popa 2nd Maria Paula Vargas 3rd Cintia Rodriguez
Roxana Popa is a Spanish gymnast that has been making a name for herself internationally since turning senior in 2013. She was a star on the junior scene but began entering the conversation for contenders when she made the floor finals at the 2013 European Championships. Since then, she's been unstoppable appearing at numerous World Cups and continuing to make finals at the European Championships this year. Just recently, Popa became, again, the Spanish Champion.
Roxana's new floor with upgraded 3rd pass - 2.5 twist punch front full
A short documentary (8 mins) on Roxana Popa was just released and provided an insight into Roxana's life that I had not seen before. Here's a mini translation/outline of what goes on in the documentary. Watch
here
or below.
Roxana was born in Romania in 1997 and started gymnastics at a young age. Her dad recalls that at just 4 years old, she would climb the rope with ease - something the older girls couldn't do. Then, when Roxana was 6 years old, the family moved to Madrid so the children could have a better life.
Lucia Guisado is Roxana's coach and says how the coaches in Romania recognized her talent. They sent a letter to Jesús Carballo (the former head coach of the women's team) encouraging the federation to let her join the national team. He and Lucía Guisado noticed her potential right away.
In 2008, when Roxana was 11, she won the Spanish National Championship but did not receive a trophy because her citizenship had not been finalized. Then, when Roxi's citizenship was finalized and she was ready to compete for Spain, injury struck.
In May 2010, Roxana seriously injured her elbow while doing a transition on the uneven bars. Her first surgery was pretty serious, and she wasn't able to do much of anything with her arm in her daily life (let alone the gym) because of the pain. She got another surgery six months later. The doctors and coaches pretty much figured she was done with gymnastics since she couldn't do anything with her arm. "I could not feel my arm, I couldn't close my hand, I couldn't lift it up, it was as if it wasn't my ... How could I go back to do the parallel bars?" She had a pretty intensive rehab, which restored her physical ability, but the emotional damage was hard to overcome. She freaked out the first time she got back on the bars.
With immense strength and willpower, Roxana was able to overcome this obstacle. In 2013, she finished 6th in the all around final and 7th in the floor exercise final at Europeans. At the 2013 World Championships in Antwerp, she finished 12th in the all around final and was ecstatic with the result.
The ending most of us can understand. Roxana has clear goals for the future. "Rio. And Tokyo. And to medal."
Thanks to Nico,
Tsukahara Tucked
, and
Ginnastica Artistica Italiana
for help with the translation.
Results from Spanish Nationals