Gymnastics Injuries June/July 2014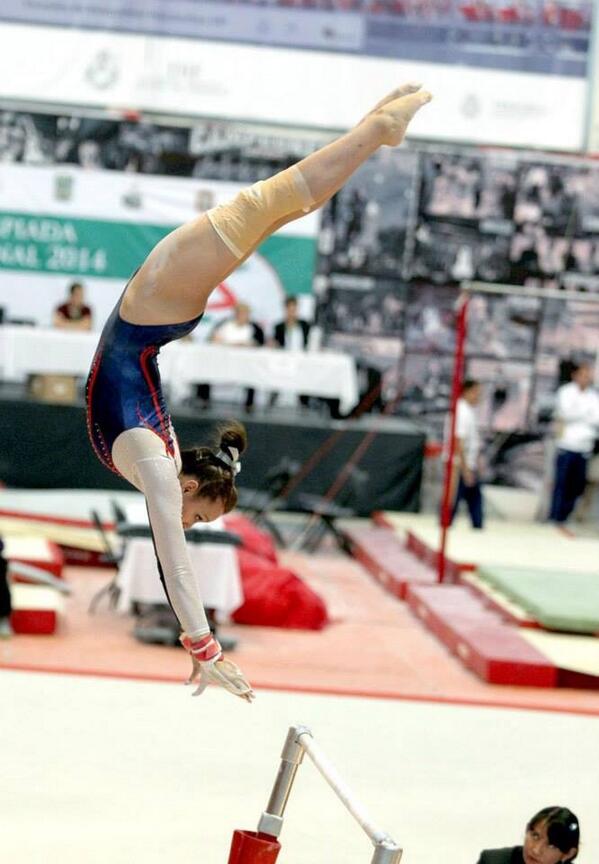 Ana Lago (MEX) recently returned to competition after tearing her ACL last year.
Photo from Ana Lago on twitter
Fortunately, this list hasn't grown much since the last posting. The end point on this list is return to competition but many of the gymnasts have "returned" in some capacity. Biles has attended the last 2 training camps. It sounds like both McKayla Maroney (USA) and
Carlotta Ferlito
(ITA) have returned to the gym from their respective training restrictions. Dutch gymnast
Chantysha Netteb
has also returned and German junior
Kim Janas
has recently posted video of her comeback as well! Also exciting is that Tyesha Mattis and Gabrielle Jupp have returned to Team GB training camps! Ana Lago has returned to competition since her ACL surgery on the uneven bars and continues to work hard on
upgrades
.
Name (Country)
Injury
Return to Competition
2014 Injuries
Elisa Cherino GER
Fractured cervical vertebrae (Mar)
Loan His FRA jr
??? (Jun)
Rebecca Tunney GBR
??? surgery (May)
Anne Kuhm FRA
Collarbone (Jan)
Simone Biles USA
Shoulder (Feb)
Louise Vanhille FRA
Elbow (Mar)
Kyla Ross USA
Back (Jan)
Mar 2014
McKayla Maroney USA
Knee ??? (Feb)


Tyesha Mattis GBR jr
??? (Mar)


Giulia Steingruber SUI
Knee bone bruise (Mar)
May 2014
Vanasia Bradley USA jr
Torn ACL & meniscus, broken patella (Jun)
Anastasia Grishina RUS
Torn meniscus & broken patella (Apr)
Laurie Hernandez USA jr
Fractured wrist (Jan)
Torn patella tendon & dislocated kneecap + surgery (Jun)


Carlotta Ferlito ITA
Calf strain + medical issue (Mar)
Ksenia Afanasyeva RUS
Ankle surgery (Apr)
Viktoria Komova RUS
Ankle surgery (Apr)
Maria Bondareva RUS
swollen ligaments in ankle (Apr)
Sophie Scheder GER
sprained ankle + 2 torn ligaments (Mar)
May 2014
Evgenia Zhukova RUS
torn Achilles (Apr)
Name (Country)
Injury
Return to Competition
End of 2013
Kim Janas GER jr
ACL; surgery
Chantysha Netteb NED
ACL
Lisa Ecker AUT
R PCL and meniscus
Jessica Lopez VEN
ankle
Feb 2014
Cintia Rodriguez ESP
ankle; surgery
Feb 2014
Maria Paseka - RUS
Back pain
Apr 2014
Eythora Thorsdottir - NED jr
Back
pre-Worlds Injuries
Gabriella Douglas - CAN
shoulder surgery
May 2014
Katelyn Ohashi - USA
Shoulder surgery + Back
Sabrina Vega USA
Shoulder surgery
Giorgia Campana - ITA
Elbow
Feb 2014
Julie Croket - BEL
Elbow
Sarah Finnegan - USA
Elbow surgery
Lou Nina - CHN
Elbow
Diana Bulimar - ROM
Knee injury
Mar 2014
Youna Dufournet - FRA
knee surgery
Mar 2014
Elisabetta Preziosa - ITA
Knee
Feb 2014
Adriana Crisci - ITA
Torn ACL after DTY
Feb 2014
Nadine Jarosch - GER
Torn ACL at German Champs; surgery
Gabby Jupp - GBR
Torn ACL at Europeans; surgery
Ana Lago - MEX
Torn ACL; surgery
May 2014
Erika Fasana - ITA
Tibia
Feb 2014
Marine Brevet - FRA
Torn Achilles tendon; surgery
Mar 2014
Wyomi Masela - NED
Torn achilles tendon; surgery
Jun 2014
Luo Peiru - CHN
Achilles & fractured kneecap
Lexie Priessman - USA
Achilles tendon strain at P&Gs
Ksenia Afanasyeva - RUS
Ankle surgery
Apr 2014
Madison Kocian - USA
Ankle sprain at P&Gs
Feb 2014
Céline van Gerner - NED
Ankle surgery
Anastasia Grishina - RUS
Back pain/pinched nerve
Apr 2014
Enus Mariani jr - ITA
Back injury (May)
Adrian Gomes - BRA
Koko Tsurumi - JPN
Jade Barbosa - BRA
Ligament rupture
Mar 2014
Returned to Competition
Tatiana Nabieva - RUS
concussion
Maria Livchikova - UKR
ACL (both her ACLs have been torn. Now we pray!)
Lisa Top - NED
dislocated elbow
Elizabeth Price - USA
Hip injuries (both sides)
Janine Berger - GER
not enough prep time after her knee injury at World Cup
Lisa Hill - GER
injured at German team training visit to Brestyan's
Evgeniya Shelgunova - RUS
Anne Kuhm - FRA
Elbow - cracked radial head and cartilage
I decided not to include MAG because I don't follow closely enough to stay on top of each injury. If you want to help out, let me know!
As always, please share any other updates as well! If you know what happened to
Tyesha Mattis
or
Loan His
or the name of the gymnast that got injured at Euros, let me know!