CWG Athlete Profile: Isabela Onyshko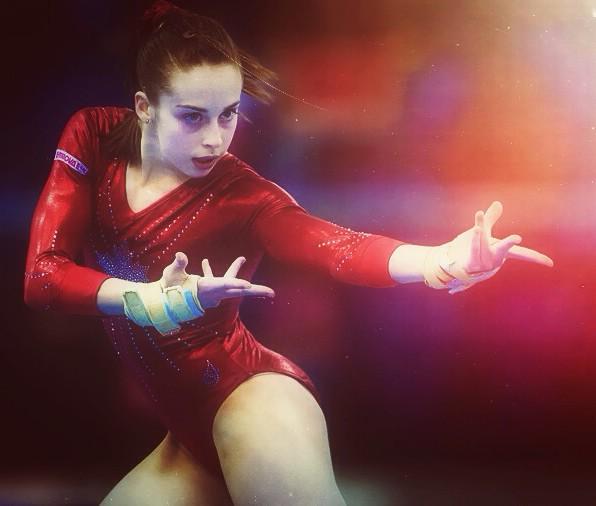 Photo Credit: Freezing Light
Continuing the series on CWG Athlete Profile's, we have Canada's
Isabela (Bela) Onyshko
. She's a first year senior that's helping to make things interesting in Canada. At 2014 Canadian Nationals, Onyshko won the silver medal in the all around and uneven bars but was named Canadian Champion on the balance beam. Even though she's a strong all arounder, she's most needed by the Canadian team on uneven bars - remember this when we get closer to World Championships.
Onyshko recently did an interview with Full Twist where she mentioned that her all around status at the Commonwealth Games is still unknown. She boasts a 5.6+ D score on uneven bars, balance beam, and floor. The most important event to watch her on would be uneven bars where she boasts a 6.1 difficulty score. She has had some issues with execution, most notable a late handstand pirouette skill and a leg separation on her pak salto. Otherwise, she has a nice swing on bars and a strong double front half out dismount. Expect her to make event finals, pending what other Canadians do as far as 2 per country, and potentially medal on the UB.
In order of likelihood, I'd expect Onyshko to compete uneven bars, balance beam, and floor exercise. Onyshko has had a floor routine to Torn by Nathan Granier - the same music, albeit a different cut, as teammate Victoria Moors. I thought this might be an issue at Worlds but turns out it can be an issue much earlier. Their style of dance is completely different and it's interesting to see a different interpretation of the same song. You can watch it
here
.
Related Posts
:
10 Minutes with Isabela Onyshko
(Full Twist)
CWG Athlete Profile: Kirsten Beckett (RSA)