Routines to Watch: Commonwealth Invitational 2014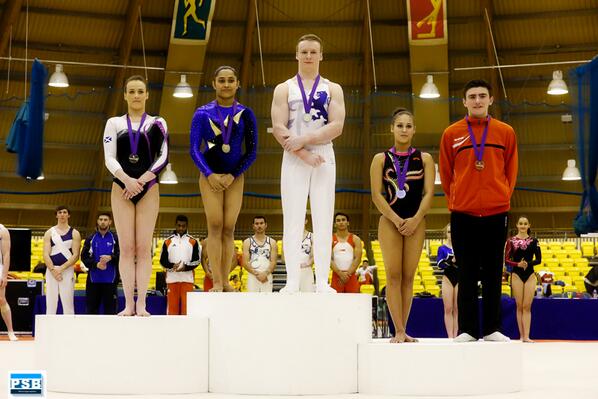 Ladies L to R: Emma White (SCO), Dipa Karmakar (IND), Marisa Dick (TTO) VT medalists
with MAG PH Medalists at 2014 Commonwealth Invitational
Credit: PSBPhoto
Last weekend, the Commonwealth Invitational was held in Scotland. This served as a trials for some athletes for the Commonwealth Games and helped to give us a preview of some of the gymnasts we might hope to see at the coming Commonwealth Games.
On vault, the winner was
India's Dipa Karmakar
. She had a very clean front handspring front pike 1/2 and a full twisting Tsukahara with impressive height. Her scores were a 14.2 (5.0D) and 13.8 (5.2D) for a 14.0 average.
Watch
here
or below:
The asymmetric bar title was shared with one share of the prize going to
Trinidad and Tobago's Marisa Dick
. Dick trains in Canada but competed for TTO at last year's World Championships. She shows great promise as a bar worker. Emma White also tied for the uneven bar title (
here
) with a 13.200.
Watch
here
or below:
Floor proved to have some really exciting gymnastics.
Emma White
, who returned to Scottish gymnastics after injury and retirement at age 24, took the crown on floor exercise (as well as in the all around competition). She opens with a lovely double arabian and has strong choreography to Cell Block Tango.
Watch
here
or below:
Another pleasant surprise on floor exercise was
Malaysia's Farah Ann Abdul Hadi
. She opened with a simple double tuck but the height she gets on it gives you hope for upgrades in the future. It's an enjoyable routine and it's nice to see how excited and supportive all the other competitors were!
Watch
here
or below:
Full results can be found on
Scottish Gymdata
or on Full Twist (
AA
,
EF
)