Experience US Nationals MAG
I had the delight of also going to the men's competition and I'm glad I did. I thought I may never have the chance again but I've decided that I'm going to another meet.
I realized I left out some coach sightings. Was Chow on the floor for the seniors? He might've been. Either way, someone said I love you and he turned and blew a kiss to the crowd. When Mihai came over to the Hilton, all the little kids went up to him. There we are towering over 3 rows of 10 year olds. Mihai has a box in his hand and was looking for his wife. Then the little girl said, "Mihai, may I please have your autograph?" How could you deny someone so cute - that was literally the reaction on his face. He tried moving but the crowd moved with him. Then another little one asked politely. Chalk It Up and I looked at each other and decided we were never getting Mihai's autograph because we'd never be as adorable as a polite 10 year old. He walked away soon after anyway.
On my way to MAG, I saw Chow smiling as he walked down the street. I didn't say anything because I was in my car and what would I say? "Hi, Chow!" So I went on and parked.
I got to MAG late and I guess I missed shirtless warmups because you guys took too long to guess that I got Valeri's autograph. It's ok.
The meet was insane! Not sure if you followed my attempt at live tweets but my face was literally like :O the entire time.
Legendre's first pass
Seeing a "man prod" (handspring double front).
Seeing a stuck man prod.
Seeing a Dragulescu.
Seeing Orozco's Liukin (full twisting laid out Tkatchev).
Me:
source: alwaysthewriter


PLEASE DO NOT REPOST
Maybe you thought I was crazy when I said in getting a lot of chalk on me. I'm at a gymnastics meet, what did I expect? In my defense, there are 2 extra apparatus with MAG so that much more chalk. AND it wasn't just me! The Michigan boys like the chalk a certain way as does one of their coaches.

My favorite coach sweeping chalk off the parallel bars podium. Also, ALL the Michigan boys had to help chalk the bars. It takes a village to raise a child and it takes an entire team to chalk for Michigan.
See, it wasn't just me!
I was sitting behind a Ruggeri fan club. That's them in orange.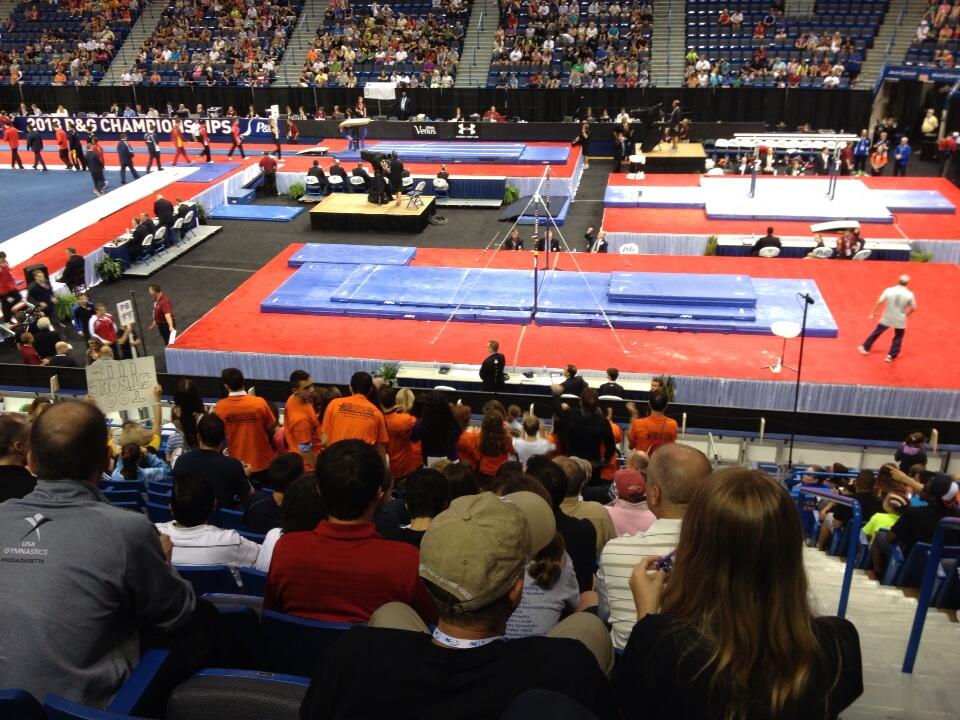 I will say that there is a flair to
Paul Ruggeri
not just on floor but on every event. Us WAG fans might think he was Romanian because he has this certain pizzazz and it factor on floor that translates to other events as well.
Watch 0:30 and how he does the handstand combo
This reminds me:
- one armed giants are cool to watch. I see how they can be dangerous but they're cool. And are people twisting as they do them? That's insane.
- I also really like Gaylords/Yamawakis/Markelovs. (So a Shushunova might give me a heart attack.)
In case you don't know this about me, I love bars. I like high bar and I'm trying to get into parallel bars. Danell does the release that I like which reminds me:
- I still don't get why guys do the mixed grip swing back wind up to start.
- Weiler kips are awkward even in MAG but good ones do exist
Jake Dalton did a man Produnova and Steve Legendre did a Dragulescu. It's amazing to see these vaults in person. Yes, you need a good block but I think the speed at which they did their saltos was most impressive to me. Add a 1/2 turn at the end and I was sitting there with my mouth open. Stacey Ervin has the equivalent of a Mustafina dismount on rings where you're sitting there wondering, "Shouldn't you be facing the other way?"
Josh Dixon
, like Ruggeri, is another beautiful floor worker. He could teach a few ladies in WAG a thing or two about stag leaps. (I'm referring to the one after his 2nd pass.)
Alex Naddour
on HB reminds me of Fabian Hambuchen - not flashy but clean form. His form may not be as perfect as Hambuchen's but it's still nice. I didn't notice this live, but that's Yin Alverez in the background excited that Naddour had a good routine. This is relevant for later!
Someone on tumblr has the username "icannotcountthosetwists" and I think that's the best username ever. I'm pretty bad at it and even worse when it comes to MAG because I have no real reference. I know
Brandon Wynn
did a Tsukahara entry and I know he stuck the landing. My guess is 1.5 twist based on the vault number but I don't know if WAG/MAG VT COP works the same way. And just because he did a Tsukahara entry doesn't mean he did a Tsukahara vault. Someday I'll understand!
Mark Ringle
of Nebraska on High Bar - he had a good routine and was ecstatic afterwards. He calmed himself down, though, to cheer his teammate through his entire routine. He doesn't appear to have the difficulty but he seems to have the execution, in my eyes anyway.
Steven Jaciuk
of Minnesota was also nice to watch on HB. He does that release that I like and also some German giants. I don't necessarily like them but I can appreciate how difficult they are and he's clean. All things that remind me of Ivana Hong.
I believe
Donnell Whittenburg
was the 2012 junior national champion. I think I might understand why. Watch his HB too.
Watch Wynn's dismount (and his coach's reaction)
Colin van Wicklen
FX - I only just noticed that there were juniors at the senior session so I think he's a junior but I like him on floor. He's like a cat with those landings.
Brian Knott
of Stanford - watch the sequence at 0:30
Pretty sure the person that we're hearing cheer on Danell that isn't his father is Alex Naddour. Team Naddour all the way, baby! (And speedy recovery to Danell as well!)
Going to the men's meet was interesting. A lot of junior boys were there. When I swam, I always watched the older kids to see what they were doing and how I could be like them. I assumed the junior boys were doing the same but now that I know they were scouting their competition since some of the juniors competed with the seniors. I was sitting next to Alex Diab.
Other than juniors, there were a lot of former USSR-ian parents and coaches. There was a whole group of men next to me and I'm pretty sure they were all from different places. My seat was near high bar but I moved by floor when the Michigan boys were on floor. I sat next to this nice man from Ukraine. When I first got there, he was cheering on Penev. When Anthony McCullum got hurt, he said "Zis happens in gymnastics!" True but no one likes to see it. He told me gymnastics is the greatest sport and I agreed. I told him I was doing it too and he said, "Very good. You may not become National Champion but it's very good you're doing gymnastics." He told me how pommel horse and still rings require so much strength and precision and how being a good gymnast and being a good coach are very different things. I was going to move closer to the floor but he convinced me we had good seats. I stayed right where I was and I'm glad I did.
Well, I hope you enjoyed my little series of Experience US Nationals. I hope you all get to go to a meet someday!
Let me know what you think!
Experience the Meet
Experience US Nationals Day 1
Experience US Nationals Day 2