College Fantasy Gymnastics: Triple Twist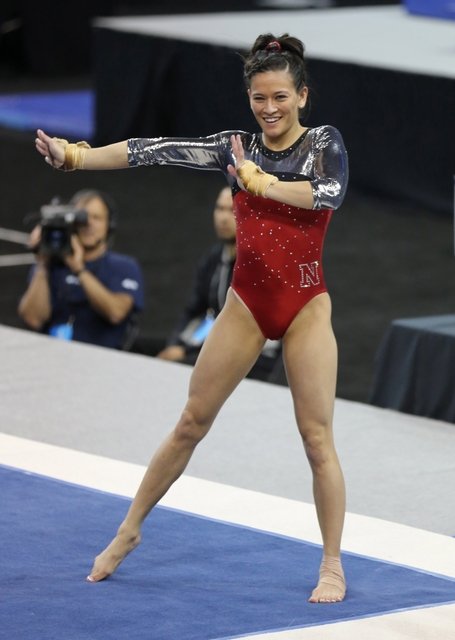 Emily Wong of Nebraska
Credit: Erin Long for gymnastike
A new series on College Fantasy Gymnastics. This review is brought to you by Ashlee from
Triple Twist Gymnastics
Why did you sign up for fantasy gymnastics?
I signed up for fantasy gymnastics because I thought it sounded really fun and I've always watched my brother do fantasy football and thought it would be cool to do that with gymnastics.. My sister and I have watched college gymnastics for a while and we wanted to test our knowledge and challenge ourselves. I'm a competitive person too, so I love playing games. Fantasy Gymnastics probably has to be the greatest invention ever.
What was your thought process in picking your gymnasts?
Looking back now, I think my sister and I could have done a much better job drafting our gymnasts. My natural reaction was to pick all the former elite gymnasts first, when really, there are a lot of strong gymnasts who were never elites, and they end up being some of the top college gymnasts. So being a former elite really means nothing when selecting your gymnasts. Girls like
Joanna Sampson (Michigan), Emily Wong (Nebraska), Lloimincia Hall (LSU)
, etc. are all gymnasts who bring in high scores every week and could have benefited my lineup.
Emily Wong 9.975 on FX at SEC Championships [APF: She has one of the prettiest triple twists. Check it out in NCAA Nationals EF
here
)
Tell us a little bit about your lineups (your reliable ones, gymnasts you had to constantly move around, etc.)
I liked my team a lot. Being a huge Michigan fan, I ironically had a lot of the Michigan girls on my team, but that wasn't on purpose. I think
Ashley Priess and Natalie Beilstein
were the most reliable on my team. They rarely made mistakes and often brought in the highest scores on my team.
Austin Sheppard
also was very reliable. She only did vault this season but she scored a lot of 9.9's or above and also had great landings.
Cailtlyn Atkinson
did all around all season and consistently scored well, so I knew I could always count on her for my lineup.
Sheridan Metcalf
and
Jackie Mccartin
were the girls I often switched around, going back and forth, depending who was scoring better.
Austin Sheppard's 9.925 on VT
MVP - most valuable player
I think many of them are valuable on certain events, but I'm going to have to say
Ashley Priess
. She brought in big scores week after week.
Ashley Priess 9.925 on BB
MIP - most improved player
Shelby Gies
from Michigan did bars and beam all season (she did floor towards the beginning too) and I think as the season went on, her scores got higher, and she became more valuable overall.
Gymnasts or schools that surprised you
Well Michigan for sure. Knowing how they did the previous season, I wasn't sure how how good they would actually be. The team really pulled together and had a phenomenal season. I wouldn't' say I was surprised by any of my gymnasts, but I was impressed with
Erica Smith
from West Virginia, she did bars and beam and was pretty consistent all season. If the gymnasts I normally count on made a mistake, I could always count on Erica's score.
What was the most difficult part of College Fantasy Gymnastics for you?
Probably the most difficult part for everyone--creating a lineup and trying to decide which gymnasts are going to do what events. There were a few times this season when I didn't put a certain gymnast up and they ended up competing and getting a huge score. It's so frustrating. I also picked too many gymnasts who were injured or hardly competed the whole season which I felt like it was a waste to pick them in the end.
Any other routines or gymnasts the gymternet should know about?
Joanna Sampson and
Sachi Sugiyama
from Michigan are fantastic and usually bring in huge scores. Randi Lau from LSU only did vault this season and got a 9.9 or above almost every time.
Do you think you'll do it again next year?
Of course! I love fantasy gymnastics and I'm going to take what I learned from this year and hopefully do better next year!
Thank you, Ashlee!
Triple Twist Gymnastics Blog
|
twitter
If you're interested in talking about College Fantasy Gymnastics or just writing a post for APF, email me at arabianpunchfront[at]gmail[.]com. You can view the CGF website
here
and can sign up for a reminder when the next season starts!
Check out what others thought!
Gina/flippinglouise
Arabian Punch Front
Camie