College Fantasy Gymnastics: Gina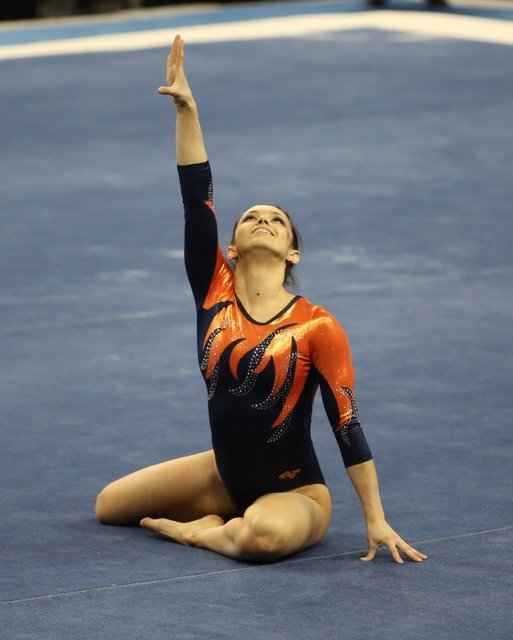 Alina Weinstein of Illinois
Credit: Erin Long for Gymnastike
A new series on College Fantasy Gymnastics! This analysis is brought to you by Gina.
Why did you sign up for fantasy gymnastics?
I signed up for Fantasy Gymnastics mainly because I wanted to learn more about NCAA gymnastics. I had followed some of NCAA for a few years, but I wanted to get more involved in the action!
What was your thought process in picking your gymnasts? And what did you learn about the gymnasts you may not have chosen.
My main goal while drafting my gymnasts was to have primarily individuals who did the all-around or three events. I was honestly afraid that I would have lots of injuries during the season and run out of gymnasts to put on each event! In the end, I accomplished my goal, with all but five of my gymnasts meeting my original criteria. I was very hesitant to pick freshmen, so I did not have some of the exciting talent that this year brought (Danusia! Bridget!). However, one freshman I took a chance on was Brandie Jay – who had an amazing season and is now one of my favorite gymnasts in the NCAA!
Tell us a little bit about your lineups
My lineups definitely had a mixture of reliability and instability! People like Alina Weinstein, Chelsea Davis, Katherine Grable, Brandie Jay and Erica Brewer were almost always dependable. My beam lineup was where most of the moving went on – due to early season inconsistency by "beamers" like Jessie Jordan, Sarah Persinger, Shona Morgan and Erin Freier. Thankfully most of the mistakes were cleaned up by the end of the season…but my beam scores still struggled!
MVP - Most Valuable Player
There are a few girls on my team who are completely deserving of this title, but I believe
Alina Weinstein
is my true MVP. It was her senior season at Illinois and she certainly did not hold anything back! Alina scored a 9.9 or higher on vault five times this season, including a perfect 10.0 on vault in week 11. Additionally, her incredibly difficult floor routine earned her 10 scores of 9.9 or higher. She was extremely consistent and is without a doubt a huge reason the Illinois team qualified a full team to the NCAA Championships.
Perfect 10 on VT
Weinstein sets school record of 9.975 on floor
MIP - Most Improved Player
This is such a tough one! I feel like everyone had some jitters at the start of the season, so they all had room to improve! I'll have to give this to
Brandie Jay
, just because she definitely had to fight for her lineup spots and improved on her performances all season by adding upgrades to both her bars and floor routines. Brandie started the season competing on vault and floor while exhibitioning on bars, but with determination and hard work she was able to break into the bars lineup and remain there for the rest of the season. If you follow me on twitter, you know I was Brandie's biggest advocate in making that lineup!
Jay's 9.975 on FX at NC State
Gymnasts or schools that surprised you
I don't believe any specific gymnasts surprised me as far as their abilities were concerned – afterall, I did tons of research before this started! However, I really fell in love with the Missouri team and Rachel Updike (who was on my team). They endured so many injuries to an already small team and somehow managed to forge their way through their first season in the SEC – facing teams like Alabama, Florida, LSU and Georgia. And, to the surprise of many, they ended their season at the SEC Championships in 7th place when everyone had them pegged for finishing dead last. Hopefully next year will be a successful rebuilding year for the Tigers, who will also be getting a new head coach!
What was the most difficult part of College Fantasy Gymnastics for you?
One of the most difficult parts of Fantasy Gymnastics was making my weekly lineups. It was such a challenge and really made things interesting! Some gymnasts would have a really great week when they weren't in my lineup, but when they were in my lineup they'd have a fall…so that made for some paranoia!
Do you think you'll do it again next year?
Absolutely! Within the first week or two of this season I was completely addicted! And I may have already started researching gymnasts I want on my team next year…oops!
Thank you, Gina for your insight!
twitter
|
tumblr
If you're interested in talking about College Fantasy Gymnastics or just writing a post for APF, email me at arabianpunchfront[@]gmail[.]com. You can view the website
here
and can sign up for a reminder when the next season starts!