Montage Monday: Jordyn Wieber
source
This is the 2nd themed montage monday dedicated to World and Olympic Champion Jordyn Wieber. Just a little orientation: The first 2 videos were made more recently and have a little more Olympic footage to them. The last 3 show more of Jordyn's path to Worlds (Never Say Never and Wild Ones) or the Olympics (I hope you dance). Enjoy!
Jordyn Wieber. 2012 Olympics. Little Wonders.
Song:
Little Wonders - Rob Thomas
This is an amazing video of Jordyn Wieber made by carriemydear/@usagymfan2016. It captures the heartbreaking emotions of the All Around final and, at the same time, shows how strong of an athlete Jordyn is, physically and mentally, to perform so well for her team the next day. I didn't realize how beautiful Jordyn's double double is and how she sticks her arm out right as she's ready to land. The mood created throughout really matches with the increasing strength of the music and the strength of Jordyn's performances.
Watch
here
or below:
Jordyn Wieber - The Unexpected End
Song
: So Cold - Nikisha Reyes-Pile
Another amazing one by fansgymnastic/@fansgymnastic. This song is a bit slower and you have to get through the heartbreaking first half to make it to the 2nd half. Fansgymnastic really highlights the tension throughout the entire all-around qualification, not just the emotion when the results were shown. The emotions by Jordyn and her mother, Rita Wieber, are portrayed. Then, we get to see how much of a class act Jordyn is: cheering throughout the team finals for all her teammates. #classact. One of my favorite moments of the Games is Jordyn reacting first to the USA winning gold.
Watch
here
or below:
3 more montages below.

source
One of my favorite Jordyn moments :)
Jordyn Wieber - Never Say Never
Audio:
Trailer for Never Say Never movie
Chris Saccullo made a video some time ago for Jordyn when we found out that she had Bieber fever. The audio is the trailer of Justin Bieber's movie "Never Say Never" and everything still applies now. "Whenever you knock me down, I will not stay on the ground... There's gonna be times when people tell you you can't live your dreams. This is what I tell them: Never Say Never." At this point, we don't know if we'll see Jordyn competing again but if there's one thing we know, we can't count out this fierce competitor.
Watch
here
or below:
Jordyn Wieber - I hope you dance
Song:
I Hope You Dance by Leanne Womack
The ladies of
Triple Twist Gym Blog
definitely have Wieber Fever. They've met her numerous times and even had the opportunity to attend her
send off party
. Shortly after team finals, Ashlee made this video of Jordyn chronicling her journey from a young child to a mature gymnast helping her team and country earn a gold medal. It ends with a quote from Geddert showing his affection for the athlete that has grown before his eyes and deserves all the success in the world. The song is perfect - no matter what you choose to do, we hope you still appreciate the small things in life and that gymnastics is something you can always turn to. Your fans will always be there for you.
Watch
here
or below:
Brittany of Triple Twist also made a video before the Olympics:
Jordyn Wieber - The Dog Days Are Over
.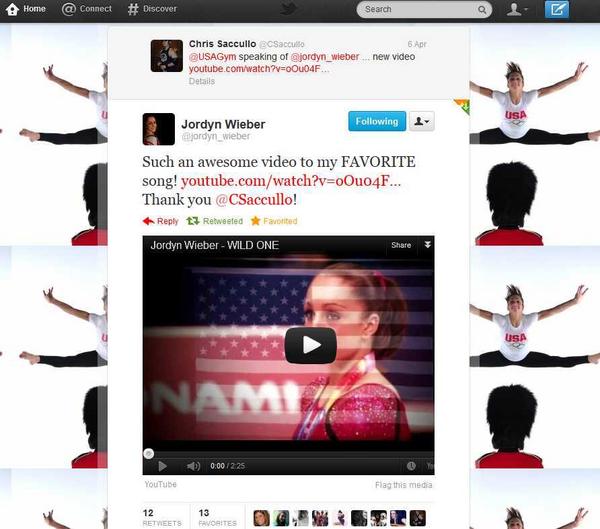 Photo property of Chris Saccullo
Jordyn Wieber - Wild One
Song:
Wild Ones by Flo Rida ft. Sia
Chris Saccullo made this video and Jordyn has even tweeted saying this is her favorite song. This video has footage up to worlds and mixes in audio from different Jordyn Wieber interviews - when she was younger up to the appearance on Ellen. This is definitely a feel good video.
Watch
here
or below:
Which videos were your favorite?
Some cute pics/gifs of Jordyn on tumblr:
here
Facebook:
Arabian Punch Front
Twitter:
@ArabianPF_blog
Tumblr:
Arabian Punch Front
---
Next week will be a general Montage Monday. October 29th will be a Viktoria Komova Montage Monday. Submit suggestions to arabianpunchfront@gmail.com or to @ArabianPF_blog on twitter.